article
What did BTS' Permission To Dance achieve after the first 24 hours?
BTS's achievements are relatively positive after 24 hours of releasing the new MV, but they have not been able to break their own record on digital music platforms.
Less than 2 months since Butter's release, BTS continues to show their hard work when officially making a comeback on July 9 with the song Permission To Dance.  This is BTS' third English-language music product with the participation of two famous names, Ed Sheeran and Steve Mac.
"Permission to Dance" is a bright song with piano and string sounds. The catchy melody is also well-received by Kpop fans and the public. Not only is it a catchy song, but Permission To Dance also conveys meaningful messages amid the current complicated epidemic situation.
Faced with pressure when Butter's achievements are so outstanding. Currently, Butter has been leading on the Billboard Hot 100 chart for the past 6 weeks. As a result, fans can't help but look forward to BTS' next breakthrough in this song. However, Permission To Dance can't seem to surpass BTS's previous hit.
YouTube views are much less compared to the previous 2 hit songs
After 24 hours, the MV Permission To Dance only reached 68.5 million views and 6.7 million likes on YouTube. Thereby, BTS could not break their own record when previously, the song "Butter" had reached 112.8 million views on YouTube, becoming the most viewed MV in the first 24 hours globally.
At the same time, Permission To Dance cannot surpass the number achieved by the MV Dynamite when this song also won more than 100 million views in the first 24 hours. Although the achievement is behind 2 of their own hit songs, BTS still proves their coverage when maintaining a high ranking in terms of views on YouTube.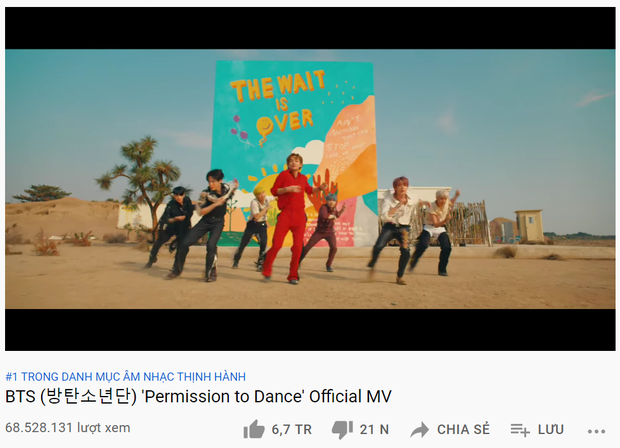 BTS's latest song only recorded 68 million views, while the fans' original goal for this MV was 120 million views. Fans of BTS seem to have high expectations for the 7 BigHit boy's latest product.
Previously, the MV recorded more than 2.16 million views, a number that was nearly halved compared to "Butter" when this song had 3.9 million views as soon as it was released. Besides, Permission To Dance could not surpass Dynamite in terms of premiere performance when Dynamite had up to 3 million viewers when it was released.
In addition, MV Permission To Dance is currently leading the world's top trending and reaching the top trending YouTube in 90 countries.  This product is ranked #1 in 30 countries such as the USA, India, Canada, Germany, France, Japan, Korea,…

Remarkable achievement on iTunes and international music platforms but can't beat their own record
On iTunes, 7 BTS boys ranked No1 in 92 countries and territories, continuing to be the number one on the Worldwide iTunes Song Chart. However, Permission To Dance still could not surpass the formidable record of the previous two songs, because both Butter and Dynamite won #1 iTunes in 100 countries.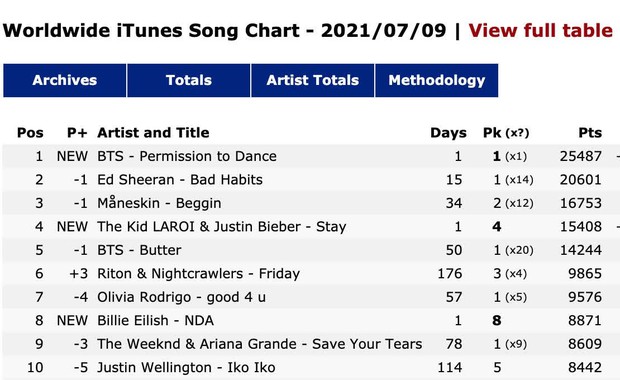 However, this song of BTS has reached the top 1 of iTunes in 6/8 of the world's largest music markets, including the US, Japan, France, Canada, Australia, and the Netherlands.  At the same time, this is also BTS's 23rd song to reach No.1 iTunes in the US, which shows that BTS is very popular in this country.
Besides, BTS' new single also had good results on Apple Music. Permission To Dance has risen to number one in Malaysia and the Philippines and is currently in the top five in Japan and at #69 in the US.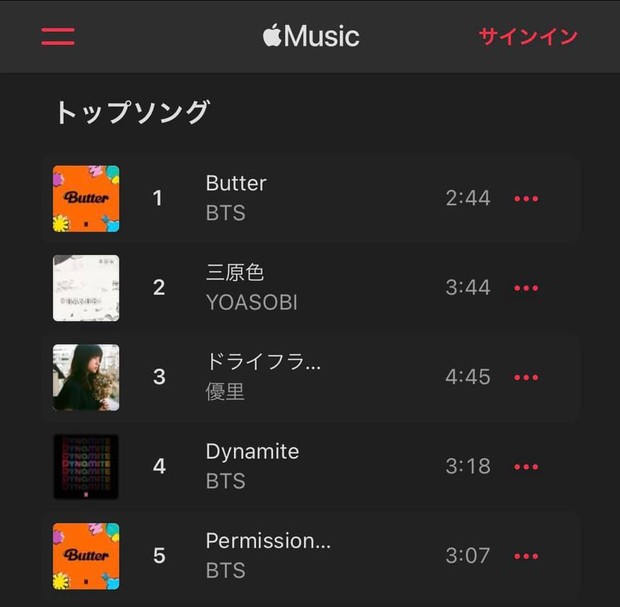 On Shazam, the number of searches for BTS's new song reached 116,832 times and ranked 35th on the Global Shazam Chart.
The next milestone
BTS's CD Butter with 2 songs Butter and Permission To Dance is Hanteo's best-selling album on the first day of 2021 with more than 1.7 million copies sold. Thereby, BTS set a new record as the only K-pop artist to have 4 albums surpassing 1 million copies on the first day of release.
4 albums surpassing 1 million copies on the first day of BTS:
MAP OF THE SOUL : 7: 2,653,050 copies
BE: 1,950,106 copies
Butter: 1,711,867 copies
MAP OF THE SOUL: PERSONA: 1,479,930 copies
Positive results on Korean charts. 
As of 9:30 a.m. (KST), BTS' new MV has landed at first place on Genie and Bugs charts, and also at 7th place on Flo and #13 on MelOn.
According to the latest updated data at 1 pm, the song has quickly recorded new achievements on the charts in Korea. Accordingly, Permission To Dance continues to hold the top spot on Genie and Bugs charts, and this song rises to 3rd on the Flo chart and is currently ranked 8th on MelOn. It is expected that in the next few hours, this new music product of BTS will continue to rank up on Korean charts thanks to the enthusiastic support from fans.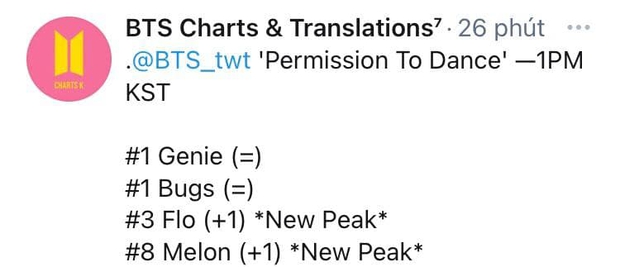 At MelOn alone, the number of unique listeners after 24 hours of Permission To Dance's launch was 310,087 times.  Although it cannot surpass Butter's previous record, this is also a positive sign of BTS's achievement on Melon 24Hits chart.

Conclusion
In this comeback, the song "Permission To Dance" has had extremely positive achievements on Korean and international music charts. Although this MV has not been able to surpass the previous records of Butter or Dynamite, Permission To Dance is still proving its attraction to fans when the position is constantly changing in a positive trend hour by hour.
At the same time, this song not only has a catchy and catchy melody but also conveys extremely meaningful and profound messages.  Therefore, Permission To Dance is not exactly a song with formidable records, but will certainly be mentioned by everyone with the humanity it conveys.
Source: K14