article
Regretting using 'Wu Yifan' as in-game name, a girl insisted on altering it and received an unexpected response from the publisher
After receiving an urgent request from a gamer who accidentally named her character "Zhejiang Wu Yifan", the game Justice Online decided to give her a free name change.
The name Wu Yifan (Kris Wu) is at the attention's focus of not only Cnets but also netizens across Asia because of his serious scandal. Currently, Kris Wu is not only boycotted by the audience, but he also receives a ban from all activities that makes many people gloat over the shameful act of the former EXO member.
Recently, Chinese internet users were entertained by the 'tragic' story of a female gamer who used to be a fan of Kris Wu. Accordingly, this girl named her game character "Zhejiang Wu Yifan" and then was shocked by the idol's scandal. Extremely disappointed, this female gamer urgently asked the publisher of the game Justice Online to change her character's name.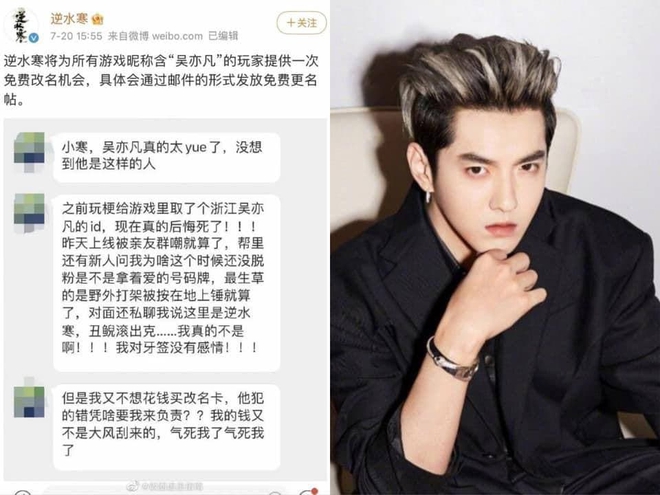 This female gamer also said that she was ridiculed by friends and other gamers because of the name "Zhejiang Wu Yifan" that she gave to the character. However, she did not want to spend money to change her name just because of the mistakes of this male star.
As a result, the game Justice Online published a generous announcement that it would be free to change the name once for anyone with the ID "Wu Yifan".
The detailed announcement is as follows: "Justice Online will provide all players with the ingame nickname 'Wu Yifan' the opportunity to change their name for free. Specifically, we will send a free rename card via email."
This news made many Chinese netizens excited and even reached the top 4 "hot searches" on Weibo.
Source: K14
tag exo, gentle monster kris wu, Kris wu, kris wu wife, kris wu yifan, skandal kris wu, who is kris wu, Du Meidzu,