article
Announcer Jo Su Ae: "I didn't mean to be judgmental on the contestant. I'm truly sorry!"
"I'm very embarrassed because it is the first time I've been involved in a controversy while appearing on the show," announcer Jo Su Ae said. "I'm sorry for causing such an unexpected controversy. I didn't intend to degrade the participants at all," added the announcer. "I will be more careful with my choice of words and action. I'm very sorry". Moreover, a JTBC official employee also said, "The atmosphere at the scene wasn't serious enough to be called a "tactical situation. I hope it is not too controversial since Jo Su Ae is a sincere announcer".
In the Hidden Singer 5 episode that was aired on Monday, there was a stage where singer Bada and her impersonators had a battle. In the second round, Bada performed "I Love You" along with her impersontators, and Jo Su Ae's remarks on them became a problem.
Jo announcer commented: "The 3rd contestant doesn't seem to be Bada" then she added her reason: "It's just that person doesn't seem to sing very well". Then MC Jeon Hyunmoo asked her: "Even if the 3rd person is Bada, her singing is still not good enough?" Jo replied: "If Bada is the 3rd person, I'll feel very terrible. She could be the 3rd one though."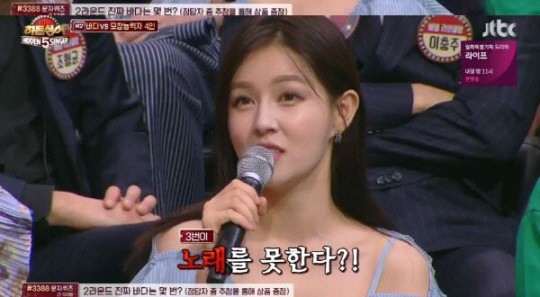 After the show, viewers claimed that Jo announcer's remark was extremely careless. There were opinions saying she was "excessively critical" as well. Also, the controversy intensified when the contestant who "doesn't seem to sing very well" won the final round and defeated Bada.
Meanwhile, Hidden Singer 5 is broadcasted at 10:30 PM on JTBC every Sunday.