Celebrity
Fans are delighted that Jin finally got the singing time he deserves in BTS's new song
BTS' vocal line continues to dominate in the division of singing parts and screen time in the song Permission To Dance.
Just over a month after returning with MV Butter, BTS continued to release the song Permission To Dance on July 9.  In addition to the music and visual party, BTS's new song also impressed the online community with the meaningful message that the boys delivered. 
One of the things that fans care about is the line division and screen time between the seven members. In this comeback, Jin is finally getting the singing time he deserves.  Jin and Jungkook share a large portion of both singing and screen time.  Meanwhile, the 3 rappers continued to not have the opportunity to show much in Permission To Dance.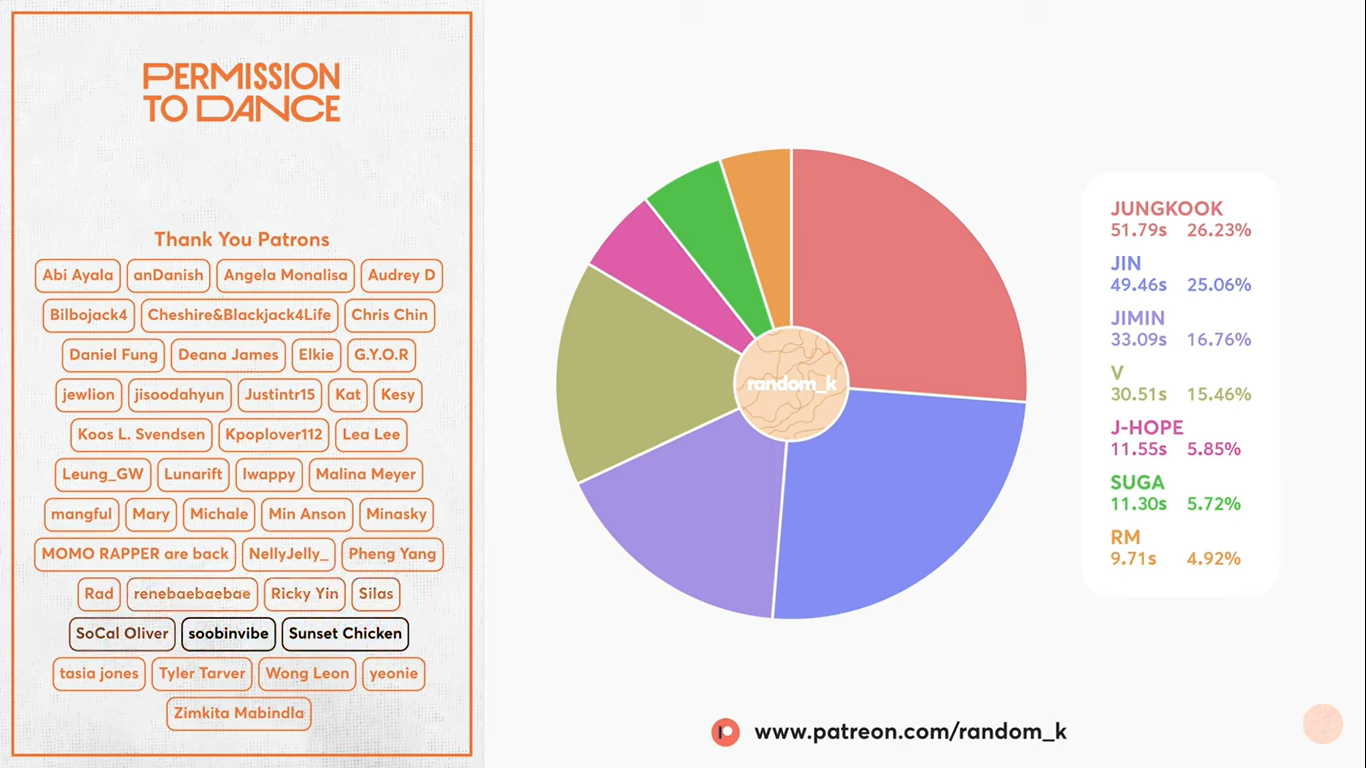 As usual, Jungkook is at the top of the line ranking with 51.79 seconds. He also ranked 2nd with the 2 minutes 33 seconds screen time in the MV. The main vocalist of BTS continuously takes on the leading role in the group's recent songs.
Notably, Jin is gradually getting the line he deserves. If in Butter, he only ranked 4th, then with this latest song, the eldest Jin was finally able to show off his voice when he rose to 2nd place with a time of 49,46 seconds.
Jin also has a pretty high screen time with 2 minutes 24 seconds, ranked 4th among the members in the MV Permission To Dance.
As the result, the rest of the members received fewer lines. The other two members of the vocal line also had good singing parts and ranked 4th and 5th respectively, Jimin (33.09 seconds) and V (30.51 seconds).
However, Jimin is the member with the top screen time of 2 minutes and 40 seconds. He owns both close-up scenes showing off his sharp visuals and scenes showing off his graceful choreography. V takes third place with 2 minutes 25 seconds.
Similar to Butter, BTS' rap line continued to rank at the bottom with unchanged rankings. j-hope ranked 5th – the highest in the trio with a singing length of 11.55 seconds. RM "landed" in the "bottom" position with 9.71 seconds and Suga showed off his voice for 11.03 seconds.
With the reversal between j-hope and Suga, this is also the ranking of screen time of BTS' rap line.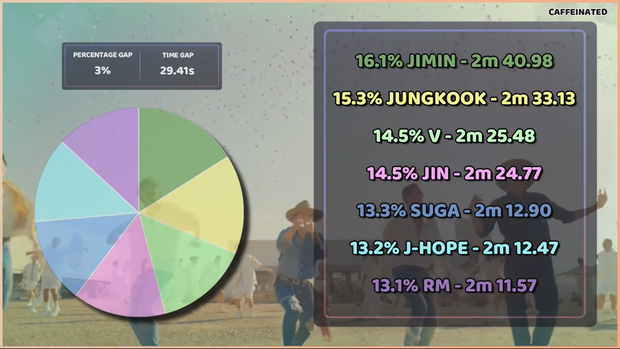 Permission To Dance is a song more suitable for the vocal line. Therefore, the division that seems to favor such vocalists is considered understandable.  The screen time in the MV is considered to be quite fair among the members.
Source: K14